Testimonials
See what people are saying...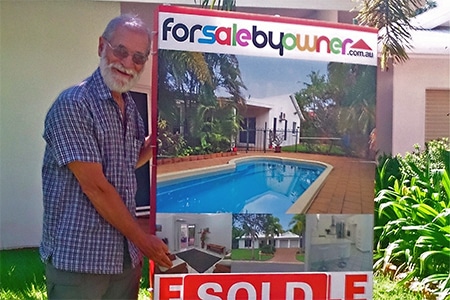 Gail and Jurgen Dous
Fannie Bay NT
We have sold two houses with ForSaleByOwner and we couldn't be happier with the product, the service and the staff. We highly recommend them.
Last year we sold an investment house in 2 1/2 weeks for $20000 – $25000 more than the agents had valued it at and minimally under our asking price. This year we sold a second investment house in 1 1/2 weeks for the asking price. We didn't bother getting valuations this year as it seems many agents undervalue houses for quick sales and good statistics. They also charge large fees for their services. By selling our houses ourselves we estimate we have saved more than $30 000 on each house sale.
Selling a house yourself does, however, require good advertising. The FSBO listing on realestate.com.au was invaluable as were the Photoboard , the flag and the directional signs. Additionally the FSBO brochure proforma allowed us to easily print a very professional handout for prospective buyers.
FSBO is a great way to sell a house – minimum fuss, maximum returns.