For Sale By Owner Reviews
What our customers have said...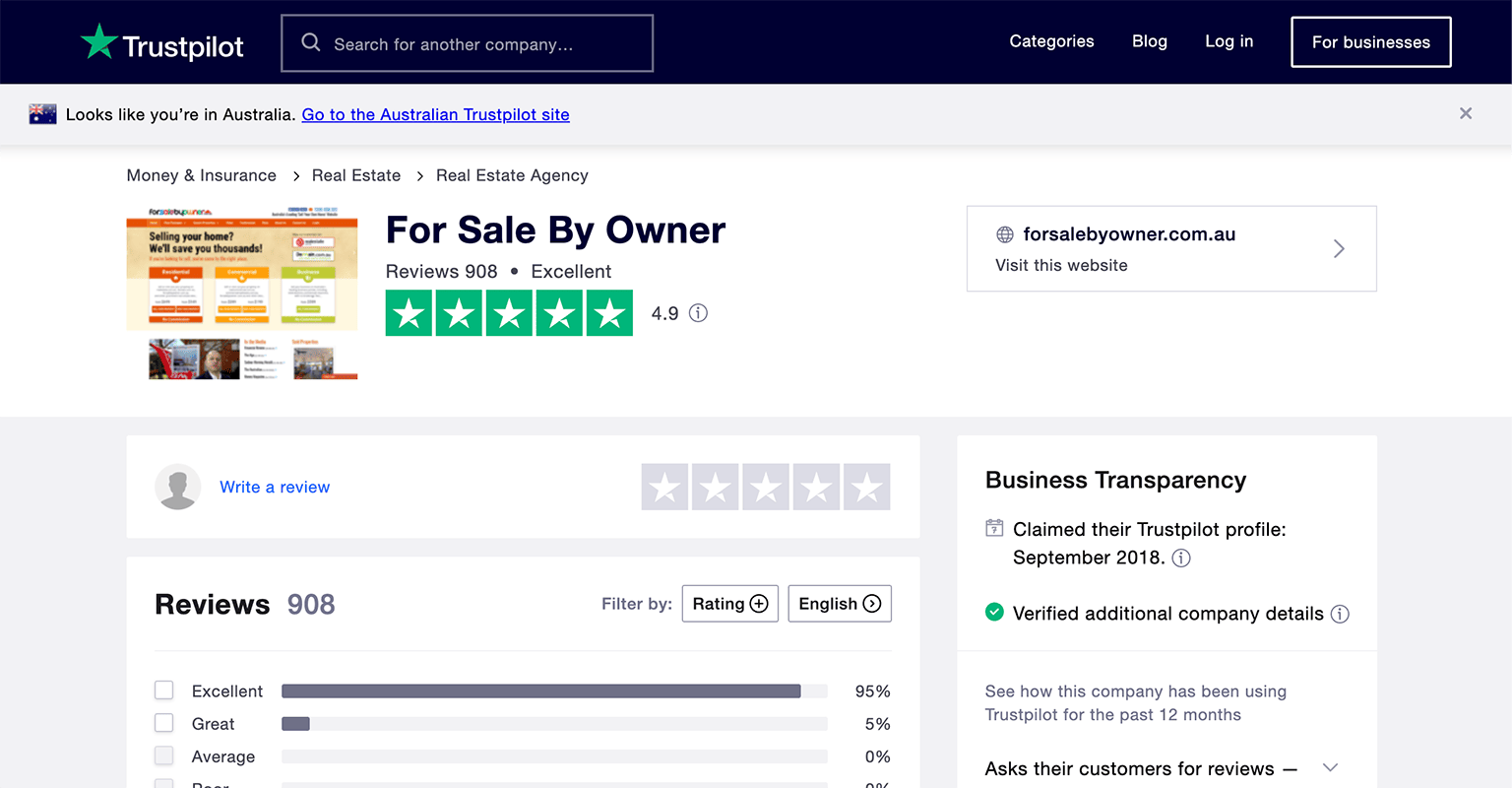 For Sale By Owner Reviews and Testimonials
For Sale By Owner was founded in 2009. Since that time, many thousands of people have sold their homes with us. Our customers represent a wide spectrum of ages and backgrounds, who have varying degrees of experience with real estate, computers and the internet. Selling a house or block of land yourself is not hard. The fact that so many people have found the process of listing and selling with us so easy is a testament to that.
Many of our client reviews give a good idea of how people experienced the process of selling real estate privately in general, what they thought of our company and staff specifically, and any advice they would give others considering selling themselves.
See also our Photo Gallery on our homepage for photos of some of our previous clients.
See more For Sale By Owner reviews and testimonials here:
Over time we have collected hundreds and hundreds of testimonials from previous clients. Many of the reviews and testimonials have images that clients have sent in and oftentimes people will leave tips for others considering doing the same.?We value all the feedback we have received and some of our most valued services, such as our enquiry system, have been improved over the years in response to some great suggestions and feedback we have received from our own clients.
Trust Pilot is the world's biggest and most popular review platform. TP has its headquarters in Copenhagen and has offices in London, New York, Denver, Vilnius, Berlin and Melbourne.?Trustpilot describes itself as "… a free and open to all review platform, built on collaboration. For consumers, we're a place to connect with and influence businesses. For companies, we're a platform for progress; a way to improve and innovate by engaging and collaborating with consumers."
We first created our business page for Facebook in 2012. Since then, we've received a lot of positive reviews and recommendations.?Please click through to view what our clients have said on Facebook about us.
ProductReviews.com.au is an Australian review site . It describes itself in the following way:?"With more than 1 million genuine reviews for the nation's leading products & services, you can see why each month, 4 million Australians trust us to make better purchasing decisions. Read here on Medium on exciting new developments & a behind-the-scenes look at ProductReview.com.au."
Review By Tony C.
We sold our place by ourselves in basically 2 weeks… from engaging the services of For sale By Owner, through to the offer and acceptance. For Sale By Owner were very helpful in getting everything set up from advertising to engaging a Photographer to "For Sale" boards … but, you do need to do the work yourself; hold the open house / negotiate with buyers / etc. It's not difficult, and mostly common sense (a bit like selling your old car) … and you'll save A LOT of money doing it yourself… forget agents (they're not that great anyway)… do it yourself (so easy and saves money!) … and For Sale By Owner were really great! I wouldn't go anywhere else.
Review By Katrina M.
Thank you forsalebyowner.com.au for facilitating the process to allow me to sell my own property in under a month! I am very fortunate and have sold my property to a cash buyer with no conditions and just a 2 week settlement – amazing!
Selling my own property was a rollercoaster of emotions. There were highs and lows, excitement then disappointment. I am an anxious person so found the process quite stressful but I am glad I persevered and didn't go with an agent (I did doubt myself and talked to one after a few weeks regarding him taking over the sale). I haven't sold a property before so I can't compare but I guess you would have the same hopes then being dashed when the potential buyer didn't make the offer so it's probably not that less stressful using an agent. I truly believe now you just need to wait for the right person to come along and feel very fortunate that they did in my case.
Living in Cairns, the average real estate agent commission is 3.3% plus GST. Agents also sell their marketing package for an average of $3000. I just worked out I saved $21,965 by using forsalebyowner.com.au! Wow!!!
I found Colin to offer first class customer service. He was always kind and encouraging. Colin organised a local professional photographer who was amazing and excellent value for money. He helped me set up my realestate.com.au ad and offered words of wisdom when I felt like it was all too much pressure. Thank you Colin!
My advice to anyone considering forsalebyowner.com.au is – DO IT! The platform is easy to use and editing your ad and photos is super easy. All enquiries came as a text message and email. It is also easy to track all enquiries as they are recorded on the platform. My only regrets (these were my own choices that I wished I'd done) are not getting a floorplan & drone shots done (my property is near the beach and I think showing that proximity would have gotten a quicker sale in hindsight).
I would again just like to express my gratitude to Colin for providing an easy way to sell your own home. The satisfaction of being in control of the sale and negotiations makes the doubts and uncertainties I experienced worth it to have gotten a great result!
Best of luck to all future forsalebyowner.com.au customers.
Review By Angela R.
Having sold three properties, from a large rural property to suburban/regional town homes, I can't recommend going with For Sale By Owner enough! It gives you full control over how to market your property by having an easy-to-use website that you simply upload your photos to, can amend as desired, and can choose to have a physical sign delivered straight to your door should you wish to advertise beyond online.
The company replied prompty to email when I had a question and were quick to troubleshoot/resolve a question. Without any real-estate commission, I was able to save thousands of dollars and, in contrast with having previously hired four traditional real-estate agencies, did not have prospective buyers turned away because the agent was too busy or thought the buyers were 'unsuitable', nor was pressured to raise/reduce the property price or go to auction. Despite having no professional experience, showing my homes proved a lovely experience with the 'worst' situation being occasional no-shows. Whilst I hope not to have to relocate again anytime soon, I wouldn't hesitate to continue with the do-it-yourself approach.
Review By Geoffrey C.
I have now successfully sold my house (for the asking price) in a challenging market that was affected by a sluggish economy and delayed by the effects of COVID-19 lock-downs. Initially, I listed my house with a local agent, but after 4 months I decided to use the services of "For Sale By Owner". I was very happy with the choice of packages offered, all of which were realistically priced and relevant. The listing interface was easy to use, made setting up of my sale ad very easy, and allowed me to modify and adapt it whenever necessary. I was able to edit the wording of the ad (as I did frequently), adjust the sale price, and add or remove photos without any problems.
The updating process was rapid, and in most cases, the changes were reflected on the listing websites (forsalebyowner.com.au, realestate.com, domain.com, etc) within minutes, allowing me to actively manage my listing. It was particularly useful to be able to set or amend "Home Opens" whenever it suited me. The signboard arrived with 5 days and was professional and attractive and resulted in numerous enquiries from people driving past.
I achieved a far better result by being in control of the sale process and was much happier with progress. I saved $9,000 in agents fees and achieved a sale price $10,000 higher than the best offer the agents presented to me!
Thanks to Colin and the team. Without doubt, using "For Sale By Owner" was the smartest way for me to go.
Review By Andrew H.
We had a great experience using For Sale By Owner, with a successful sale going through just 9 days after being listed!
Staff were very responsive to any queries and action items.
It's a great opportunity to save some money on agent fees, but would only recommend if the seller:
– is capable and confident enough to field and manage buyer inquiries and the process of handling negotiations and purchase offers.
– has the time available to manage the above work.
– has absolute confidence in their asking price and done extensive research and monitoring of the market to ensure it's accuracy.
The sale of a property does involve a lot of money after all and generally the biggest single financial transaction in people's lives.
However, our experience was a good one, and I would recommend the service for those comfortable with the above.
Review By Catherine G.
I highly recommend forsalebyowner.com.au to sell your property. This is the fourth property we have sold privately after having two of these properties with real estate agents for over a year each with no success. We have used a different RE & Domain Advertising provider for each of these sales and my experience through forsalebyowner.com.au has been the best so far. The portal is easy to use and everything you need to action on your listing is in the portal. I have had issues in the past with other providers due to their internal processes where I had to pay to update listings, they manually put data in domain/RE and they listed it at an incorrect price, advertisement wasn't removed until 6 months after the listing sold. I had no problems with forsalebyowner.com.au and as it was all online I didn't have to speak to anyone to get what I needed done. The contract process is not daunting at all, our conveyancer prefilled out our contracts free of charge and wrote up easy to follow instructions so our contracts were iron clad and clear.
My suggestions for successful sales are to:
Know what price the market is prepared to pay and make sure that matches your expectations (this also means buyers valuation will come through).
Stage the property and make sure you remove excess furniture and clutter (this helps photos and also means buyers feel the space when they inspect).
Hire a professional photographer and pay the extra for twilight photography, it is worth it.
Using the 3 strategies above all four properties we have listed and sold were under contract within 2 days of the listing going live. The quickest turnaround for a contract I have had is twilight photos on a Monday night, received the files by email on Tuesday midday, listing was live by 3pm, buyer rang at 4pm, inspected at 5pm and a contract was signed that night. The quickest turnaround from listing the advertisement to settlement funds in our account has been 21 days. Whilst some buyers have enquired about the process of how to purchase with a private sale, any concerns they may have, quickly disappear when they realise that it is a standard sale contract and the deposit goes into our lawyers trust account.
They quickly appreciate the convenience of speaking directly with the owner so inspections date/times can be agreed on the spot, also it means you can literally have them walk through and sign a contract at the inspection because you can discuss and agree on the price there and then. I have found the people that buy make that decision pretty quickly (often because they have been looking for months) and are ready to sign there and then.
Review By Judy and Rocky B.
We have recently sold our property through listing with For Sale by Owner and would recommend this method to others considering selling their property. It was easy to register, upload photos and edit the "for sale post" at any time. We even had a link to a video clip on youtube with drone footage of our property to help promote the sale (which is something many real estate agents are offering at considerable expense).
The sign was also easy to design and very professional looking. We knew our property would take some time to sell being a niche property well above the median price in the immediate neighbourhood – however we were confident that a buyer would come along looking for a property like ours!
By listing with For Sale by Owner we were never under pressure to drop our asking price or spend additional money on advertising. We saved a lot of money than if we had listed with an agent with their high commission and advertising packages.
Review By Angela D.
The experience I have had in selling my unit through this website has been such a positive one; I'm actually short of having enough words of praise to do the team at ForSaleByOwner justice.
From the first step; the service has been so highly professional! Never a minute to think twice aboutmy decision. Every element of the process was a breeze. Making the brochure was easy as, and
was so eye-catching: equal or even better than some real estates. Responses from the prospective buyers was so positive: people love dealing directly with the owner. I can't help but being a walking advertisement now for anyone I get a chance to tell of my experience; and to pass on the information of how to sell a home (through this site), if it ever comes a time for them, or anyone they know. Not one person has indicated they wouldn't give it a go.
To finish: all I can say is what others have said – One must be crazy to pass over so much needless money to
real estate agents, if you have a computer! One really doesn't have to be very computer savvy – Again: it's just so easy! The immediate sms and email with buyers details is brilliant. That it goes on both Real Estate.com and Domain and their own site is simply awesome. I lost count of the responses.
I had a buyer at the first Open Home, and achieved more than agents predicted.
So very grateful to all behind this superb endeavour! THANK YOU!
Review By Adrienne and Paul P.
We were absolutely delighted with the support and advice that we received from the team at For Sale by Owner. Their advice, support and technical assistance were excellent and highly professional. The advertising packages that they offered were very reasonable and excellent value for money, being much less than our Agent had been seeking.
We thoroughly enjoyed the process of selling our own home ourselves. We had complete control over the sale process from the appointment to view the property, to the signing of the contract. We were able to answer fully, any questions that were put to us by potential purchasers, as no one knew our property as well as we did. One of the biggest advantages for us was that every person who made an appointment to view our home was a genuine buyer. There were no "tyre kickers" who came just for a sticky beak. We were relieved that we did not have an Agent pestering us to conduct a series of open houses only to be told, after a couple of months, that we needed to drop our price. As we could see no reason to pay an Agent thousands of dollars in commission, we listed our property ourselves, less the Agent's commission, and sold it for the full asking price within six months. We were delighted!
The advertising packages that we were offered by 'For Sale By Owner' were much more reasonable than those offered by many Agents. The advice, support and technical assistance were excellent and highly professional and always available. We would thoroughly recommend 'For Sale By Owner' to all those who are looking to market their own property.
Review By Dee H.
THANK YOU SOOOO MUCH to the For sale By Owner team!!!! You were soooo supportive and understanding when I called and asked you about this process!We sold our home the first week we put it on! It was AMAZINGLY simple!!!! Who would have thought??? ….. and we saved ourselves $15 000 that we would otherwise have had to pay an agent!
I had 3 different Real Estate agents appraise our home, they all said we should be selling high $300 000, mid $450 000 max (if we wanted to sell). General view was that if we went into the $500's NO ONE PERSON would be interested.
We called For Sale By Owner, had it up and listed on EVERY sales website within 48 hours of contacting them. The house went under contract for $595 000 a week later, the day after we had a cash offer for $600 000 and a week later another offer for $600 000. Due to personal integrity we stayed with the initial offer, and 3 weeks later (I kid you not) we moved out, and the beaut new owners moved in!
To think 3 couples were willing to purchase our beautiful home for $595-$600 000, when the agents wanted to list it in the mid $400s shows agents do NOT have your best interest at heart!
This process has been a dream come true, and I have 2 more friends who have already listed with For Sale By Owner, as a result of our fabulous experience/outcomes!!!
Take your heart and soul into your own hands, believe in yourself, and keep your own power (don't sell yourself out to others).
Wishing you all speedy sales and happy days
Dee (Humphreys) – Recently of Kin Kin Queensland