Testimonials
See what people are saying...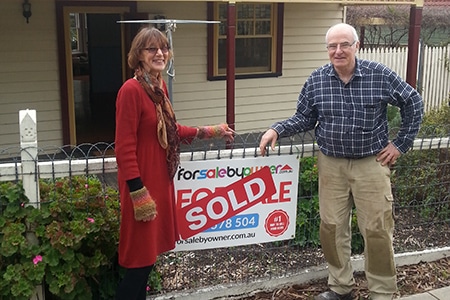 Moira Harvey
Quarry Hill, VIC
Just letting you know how pleased I am with your service and what an enjoyable experience it was selling my home privately.
You made it really easy to access enquiries and it was lovely dealing directly with people. Without an agent in the middle I knew exactly where I stood with perspective buyers and vise-versa so there was no pushing for unwanted negotiations on either side- it was totally transparent.
It was a bit difficult because of the geography- not living close to the home while it was for sale, but at the end of the day that was a minor problem.
While it was on the market I had several real estate agents wanting to take it off my hands, saying they had buyers waiting, that people didn't like buying without an agent and even that they would have it sold within a week.However they suggested a sale price much lower than I knew it was worth. I was able to keep a good watch on houses and sales in the area to ensure my pricing was right.
The result was great- it sold for $30-40,000.00 more than the agents' suggested and I didn't get lugged with commission .All offers came in well above the agent's suggestions. The purchasers have since emailed to say how settled and happy they are so I know it was worth the price to them.
I'm trying to convince my neighbours to sell their home this way, and agree with one of my perspective buyers who had just sold her place through you and said" it's the only way to sell".