Advertise on Realestate.com.au Without an Agent
Listing Privately On Realestate.com.au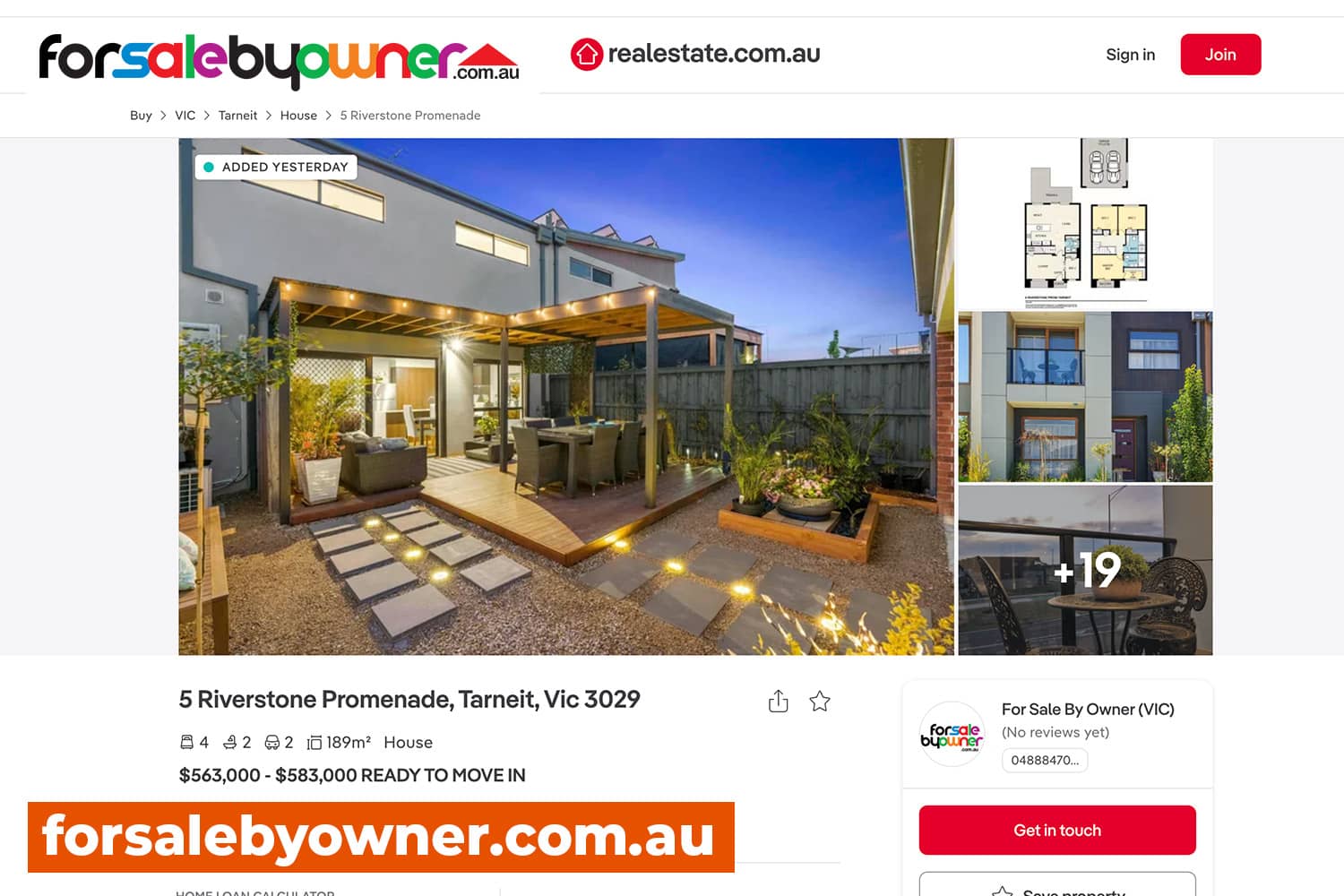 If you're looking to advertise your property on realestate.com.au privately without using a traditional real estate agent, this is now possible. Here are 7 things to know about getting listed and advertising your house, apartment, block of land, or any other type of residential property on realestate.com.au
1. Listing Privately on Realestate.com.au
realestate.com.au only accepts listings from licensed real estate agents and does not accept direct listings from members of the general public. By using the services of 'For Sale By Owner', however, you will be able to get listed privately on realestate.com.au as For Sale By Owner is a licensed agency in all States and Territories of Australia.
It's important to know that realestate.com.au has a quite detailed Acceptable Use Policy which is in place to provide a level playing field for all agents, and to provide the best possible experience for its users. When publishing your listing, we will ensure it complies with all of the guidelines.
2. Uploading Your Property to Realestate.com.au
You do not need to upload your property directly to REA. Instead, you will be given access to part of our website where you can create and add all the details of your property. This includes a title, a description, number of bedrooms, bathrooms and car spaces, the price, features of the property, photo and floor plans, and various other details such as the total floor and land size etc.
In terms of media files, you are able to upload up to 35 photographs, 2-floor plans, a property video, and an interactive tour. A downloadable brochure will also be available for prospective buyers.
3. Number of Visits and Enquiries
On any specific property page on realestate.com.au, you will be able to see the number of times the page has been viewed by clicking on the "Show Page Visits' button. This can currently be found right at the bottom of the page underneath the contact form. In addition to this, you will also be provided with a weekly report which shows the number of visits and engagements, as well as the number of phone reveals and actual online enquiries.
When an enquiry is made on your property, this is sent directly to the listing agent. When received, our software then sends you the details of the prospective buyer or tenant, and they, in turn, receive an email as well with your contact details. This happens seamlessly 24 hours a day.
4. Cost to Advertise on Realestate.com.au
A residential rental listing on realestate.com.au costs $149 (listed until leased) and a sale listing costs $699 (listed until sold). There are no monthly fees and no further fees when your property has been rented out or has sold. Bear in mind that these are our fees for listing your property privately on realestate.com.au and these prices are not the same as what realestate.com.au charges it's own individual subscribers.
5. Realestate.com.au Upgrades
Upgrades allow you to appear in higher in search results than other properties which have not been upgraded. Realestate.com.au current has four types of listings:
Standard Listing (no upgrade applied).
Feature Upgrade (appears higher than all standard listings).
Highlight Upgrade (appears higher than all standard and feature listings)
Premier Upgrade (appears higher than all standard, feature and highlight listings).
The cost of a realestate.com.au upgrade is suburb dependent and most upgrades can be purchased for 30, 45 and 90-day blocks. We can provide exact quotes for all upgrades if this is something of interest to you.
6. Searching Realestate.com.au
There are various ways in which buyers and tenants can search for properties on realestate.com.au The only mandatory field when conducting a search is the suburb, postcode or region. In addition to that, people will also commonly input a price search range, the number of bedrooms as well as the property type that they are interested in (house, apartment, townhouse, unit, rural, acreage etc.).
After having done an initial search, users can then also refine their search to specify properties that allow pets or smoking etc. Users can also do a map search which allows them to view property locations on a map prior to clicking through on the individual property itself. You must select to show your entire address and not just the suburb if you would like your property to be shown for map searches.
7. Compliance Issues
In order to create a level playing field for agents and for users of their site to have the best possible user experience, realestate.com.au has an Acceptable Use Policy which governs what is and what is not permitted on their listings. These guidelines apply to all agents equally.
Some of the main points of the AUP cover the fact that only residential properties can be listed on their site (no commercial properties are permitted), only real estate can be listed (caravans etc. are not permitted), and the status of all listings must be maintained so that properties which are no longer available are marked as leased, sold or withdrawn.
The full Acceptable Use Policy can be accessed via This Link.
Advertise Privately on Realestate.com.au