Testimonials
See what people are saying...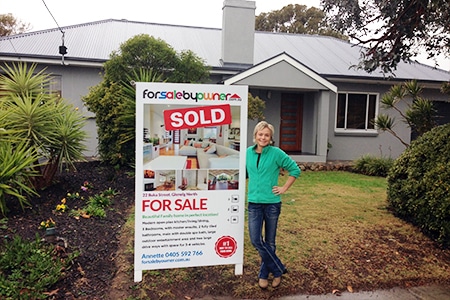 Annette Stenberg
Glenelg North, SA
My experience with Sold By the Owner was a 100% positive one, and I would recommend them to anyone any day! I mainly spoke with Simon, and he was always very prompt, positive and helpful to my MANY enquiries. To make the decision to sell the home privately, without using what many Believe is the ONLY way to sell a house, through a real estate agent, is a difficult
one. In particular since many of the people around you are likely to suggest to use a real estate. After all, it's such an important affair to sell a home. Which is exactly the reason we choose to sell privately. It was our home, and in my view, I was the best person to sell it.
Thanks to Sold By the Owner, the decision to not use a real estate was made easier. And the process of selling my house was easy, enjoyable and very rewarding. I must admit that my house is located in a popular area, and is also a unique, practical and Beautiful home, which of course helped to sell it quickly. But, in my view, with the help of Sold By the Owner, everything done to prepare the house, including creating the flyers and brochures and photo board (you actually have to be prepared to do some work :-), the process was identical to the one done by professional sales people. The biggest difference is that I know much more about my home than anyone else. And that helps!