Why Sell Your House Privately?
The Benefits of Using For Sale By Owner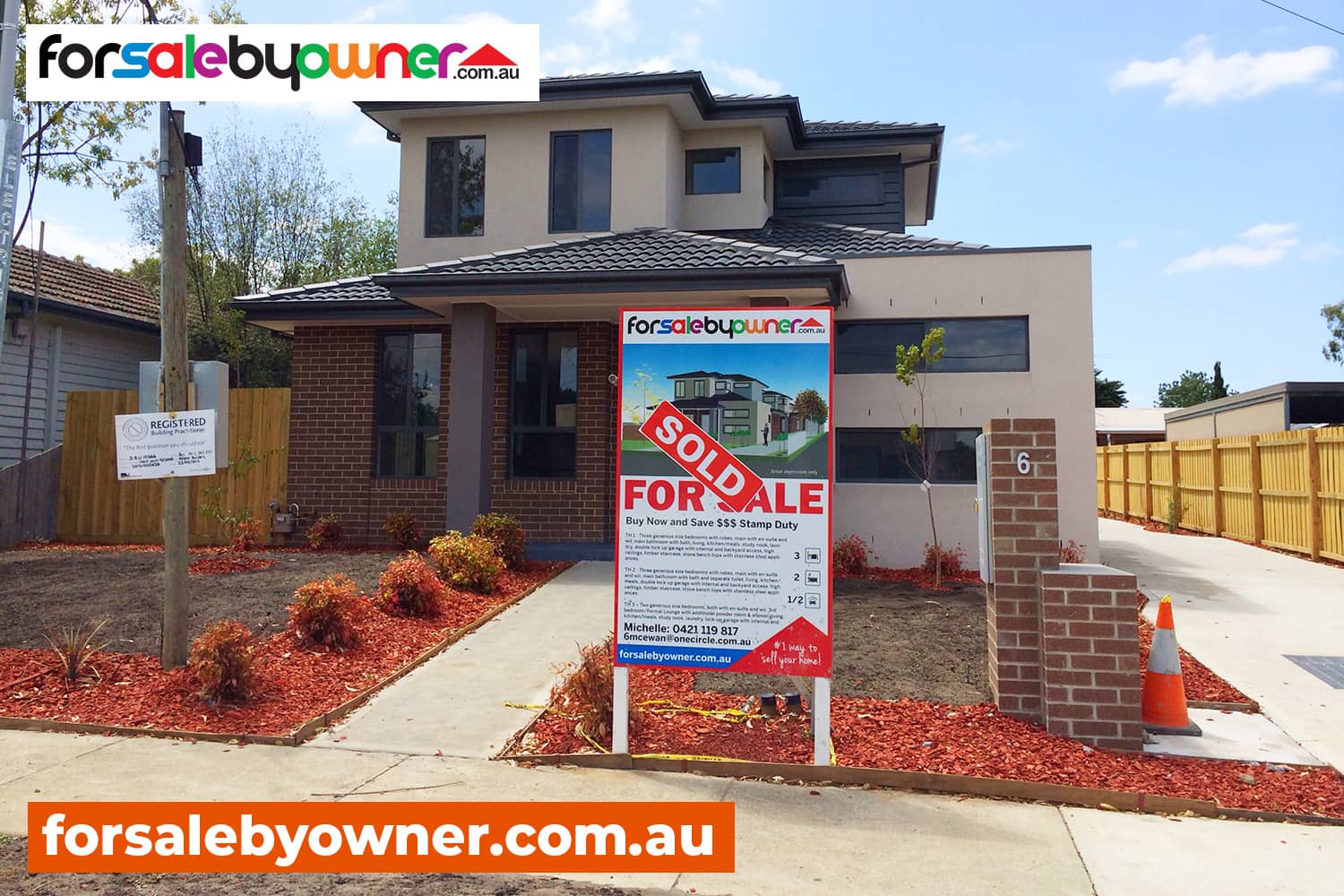 The are numerous benefits to selling your house or any other kind of property privately, without using a real estate agent. For Sale By Owner provides vendors with all the resources and tools needed to sell privately and to attain just as much exposure as a real estate would be able to.
1. Save On Real Agent Commissions
It goes without saying that selling your home is the biggest financial transaction you will possibly ever make and using a real estate agent, can be the biggest 'cost' of all in doing so. This is why many people these days are choosing to sell their own home using For Sale By Owner and doing so with incredible success.
Most agents will charge somewhere between 2-5% of the final sale price, so this can translate to anywhere between 10 to 20 or more 'thousand' dollars. There is no doubt this saving is better in your pocket than an agent.
Also to consider is that the agent while getting a hefty commission, can often be unmotivated to work harder for a higher price. Say for example there was a chance of negotiating for an extra few thousand dollars instead of settling on the first offer from a buyer, there is not much incentive in 'a few thousand' to the agent as far as extra commission goes, often the agent is pushing the sale through as fast and with as much ease as possible when who knows, maybe the buyer had more in mind to pay.
2. Save On Advertising Costs
Besides the 2-5 per cent of the sale price in commission that the agents charge, there are other fees to consider. Most agents charge a considerable amount for marketing, using the option to 'promote' the advertisement with upgrades to premiere listings so as to appear first on the searches of web sites as well as other unnecessary advertising.
The advertising costs can be a very expensive outlay with upgraded adverts being literally thousands of dollars and often not necessary. Agents will also use printing companies as well to create glossy brochures, often more than needed, this is also very costly to you the vendor, so while brochures are necessary, many are saving hundreds of dollars by creating and printing their own.
When advertising with For Sale By Owner, we save you thousands in marketing, often for much less than $1,000. We provide you with sophisticated software for creating and printing your own brochures, we provide you with a for sale board, photo boards, photography and we provide you with a listing 'until you sell'. We don't try to talk you into spending thousands on upgrades adverts. You will achieve even better results without the costly exercise of advertising through a real estate agent.
3. You Control The Whole Process From Start To Finish
From the moment you decide to sell your own home, you are in the driver's seat. This gives you complete creativity as to how you will market, how you will set the price and you will be dealing directly with the enquiries. This is very important as, without the middle man, you will have your finger on the pulse of buyers, knowing every question asked as opposed to an agent who might keep you in the dark.
You can decide on whether you will do open homes or meet people by appointment. On that note, you can devote as much time as you need to bring people through your home rather than the time poor agent who must run to the next open house. You can relax and take your time giving potential buyers your complete attention.
You are selling your 'one' home so you are in a better position as you are not dealing with an agent who's attention and time is shared with multiple homes and vendors. At For Sale By Owner, while we don't act as your agent, our trained staff can offer you as much or as little assistance as you require, if you need help negotiating or advise on marketing strategies, advise on the best and acceptable practices for selling and we are on hand 7 days a week to walk you through the whole marketing campaign.
4. You Are Able To Negotiate Directly With The Buyers
This may he one thing that you might be apprehensive about when selling your own home. While it might seem daunting to think of negotiating in terms of 'haggling' with potential buyers, it can actually be a very satisfying process. The word negotiating is exactly that. You and the potential buyer are simply having back and forth conversation about your thoughts on the property and what you are each expecting to achieve.
You may even be fortunate enough to have multiple buyers to manage. In that situation, potential buyers are expecting that there will be the need to negotiate and they often feel better about dealing directly with the owner. Many people these days are very happy to make offers directly with the owner and not having to worry about an agent who may not be acting for them appropriately and honestly.
As long as you are open and honest about your own expectations, you can negotiate just as successfully in fact even better than the agent. Our experienced sales staff at For Sale By Owner operate 7 days a week so we are here for you on the day to help you if you need advice on the negotiating process.
5. You Know Your Home Better Than Anyone
This is certainly not a cliché statement, it can't be denied that this is an absolute fact that you are the best person to sell your own home. When potential buyers come into your home they don't know anything about it except for what you have revealed in your ad. There are going to be dozens of questions asked of you and you will realize that you know a lot more about your home than you realize.
Potential buyers will also want to know more about the neighbourhood and local amenities and the street itself. They can be assured by you, who has lived there and experienced it all, that they won't be given misleading information by an agent who doesn't know the area and home as well as you do.
Perhaps even your sentimental attachment to your home can help you learn about the potential buyer, knowing your memories of the home can help the buyer see themselves living there and then you will be able to discern from the buyers needs just how suitable the home will be for their family. For Sale By Owner staff can help to draw out from you the best reasons for why a person would want to buy your home and will help you create an advert showing this.
6. You Won't Be Burdened With A Bad Agent Who Is Not Doing Enough
This is your biggest asset so you don't need to be saddled with an agent who doesn't care enough to realize this. By selling your own home you won't have the well known and experienced problem of never being able to get a hold of an agent to discuss things.
When it comes to communication with potential buyers you won't need to worry about misinformation given by an ill-equipped agent. You also avoid the grief of being dismissed by an arrogant agent who doesn't answer your concerns or questions about the progress of your marketing progress.
When you are selling your own property with For Sale by Owner, our staff are customer service focused and want you to achieve the best possible result, you will never feel that you are bothering us as so many agents make their vendors feel. We will always answer your call and be there when you need us.
7. Price Flexibility – No Need To Factor In Commission Costs
Consider that knowing you are saving 10's of thousands of dollars, actually puts you in a better position to settle on a lower price in your advertising, so if you are needing to sell fast, your pricing can be much more competitive with the agent adverts making your property more appealing.
For example, a comparable home to yours might be advertised at $650,000 by an agency. If the agent was asking 3% in commission, the cost would be $19,500 to the vendor. This cost of the commission has the owner needing to achieve a much higher price than you would, giving you as a private seller room to advertise at a lower price, making your advert stand out to buyers
Also, buyers know you are saving money and they feel better in knowing there is likely more room to negotiate. Overall it's a 'win-win' for both you and the buyer. For Sale by Owner can also help you with pricing your property by providing you with a property report of recent sales in your area.
Why Sell Your House Privately?
Tags: sell your house privately, selling without an agent, sell your house, sell your home, sell your property privately