Testimonials
See what people are saying...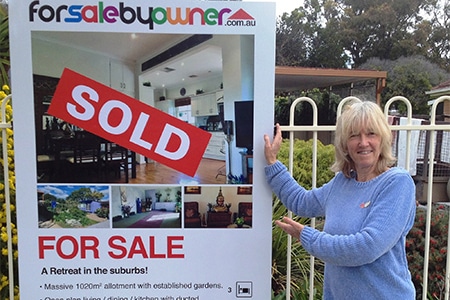 Lynne Brown
Seacombe Heights, SA
Choosing to use "For Sale by owner" for the sale of my property was the best decision I could have made. It was easy to follow the instructions on their site, with templates for designing ads and brochures to assist with advertising and promotion. I also appreciated the option of choosing either a cheaper for sale sign or more expensive one and being able to take and upload my own photos rather than paying an expensive photographer.
I also did a letterbox drop around the area of my brochures. I only had to hold 3 opens before having an offer I accepted. The whole process was dealt with quickly and easily. I have saved myself approximately $15,000 in agent fees and couldn't be happier. I would highly recommend the use of "For Sale by Owner" by anyone to sell their property.
For me, the decision was easy as the cost for their process is so small compared to agent fees why not just have a go. You have only a small amount to lose if you can't sell it yourself and a lot to gain!
Lynne