Sell My House
Information About Selling Your House Privately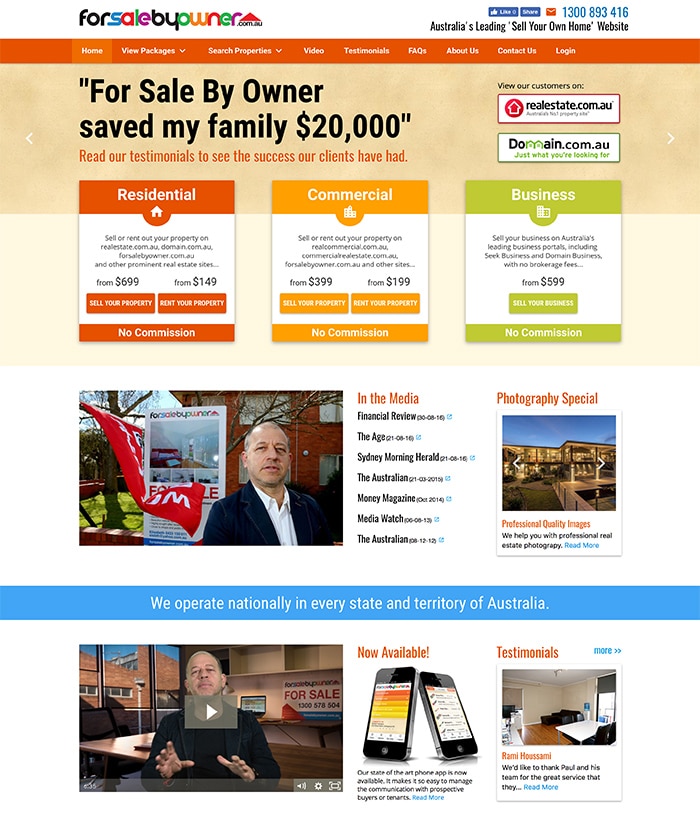 For Sale By Owner allows you to sell your own house without using a traditional real estate agent and the high fees associated with agent's fees and commission.
We provide you all the tools you need to sell your house, including listings of Australia's most prominent real estate websites such as realestate.com.au and domain.com.au, "For Sale" boards, property reports, printable brochures, access to industry experts, and extended support outside of normal business hours.
Save thousands of dollars by selling your house yourself…
View Package Details
How do you assist in my selling my house?

The vast majority of buyers now use the internet almost exclusively to search for properties for sale and rent.

In Australia, the two biggest websites for residential properties for sale are realestate.com.au and domain.com.au By advertising your property through us, your house will be listed on these sites, as well as half a dozen other prominent websites (including homesales.com.au, thehomepage.com.au and juwai.com).

In addition to online listings, we also provide you with all the marketing tools you need to effectively advertise your house. This includes property reports and printable brochures.

Am I legally permitted to sell my house myself?

Yes. Selling your own house does not need to be done through a real estate agent. There are no laws which prohibit you from doing this yourself.

How do I sell my house myself?

When selling yourself, you need to communicate with buyers yourself, and conduct your own 'Open for Inspection" where possible. You will also need to negotiate a price and conditions of the contract yourself. There is therefore a little more work involved when doing this yourself, but you can save thousands of dollars and so for many people the extra time required is well worth it.

What about the legal paperwork?

Your conveyancer or solicitor or settlement agent will be able to assist with overseeing the signing of the contract, should you wish for this to be done. You would still need to engage a conveyancer etc. even if you were selling through an agent.

What commission is payable after I sell my house?

For Sale By Owner does not charge any monthly fees while your house in on the market, and we also do not charge any commission when you have sold. The only fee applicable is the listing fee for any of our packages. No commission means a savings of thousands of dollars for you.
Tags: