Commercial Rental Packages
Everything you need to rent out a commercial property
List on realcommercial.com.au
List on commercialrealestate.com.au
SMS
Alerts

& Enquiry Forwarding
Extended Customer Support
add_circle_outlineList on realcommercial.com.au
clear
List on realcommercial.com.au
realcommercial.com.au is the market-leading commercial property site in Australia.1 The site provides comprehensive commercial property listings and information, allowing investors and business owners to search a wide variety of commercial properties available to lease or buy all over Australia.
Established in 2002, realcommercial.com.au is Australia's No. 1 site for buying and leasing commercial property, with over 1.4 million total visits per month.1
realcommercial.com.au and its residential property partner site realestate.com.au are owned and operated by REA Group (ASX: REA), a market-leading online advertising business specialising in real estate. The Group operates real estate websites in Australia and around the world.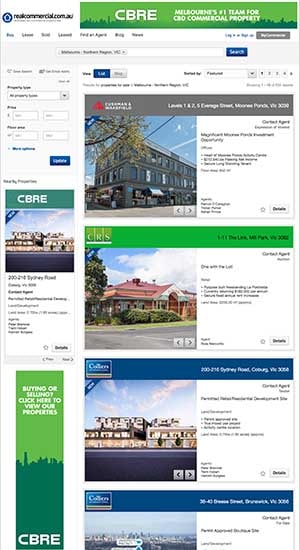 add_circle_outlineList on commercialrealestate.com.au
clear
List on commercialrealestate.com.au
Established in 1998, commercialrealestate.com.au is a dedicated national business that operates as part of the Domain Group in Fairfax Media. commercialrealestate.com.au offers an integrated mix of media advertising solutions that spans online, print and mobile and is unique for the Australian commercial property industry.
commercialrealestate.com.au's multi-media platforms make it easy for property seekers to search and explore commercial property for sale and lease. And buyer's can keep your eye on the market with property news, commentary and insightful content provided by highly experienced business and commercial real estate journalists.
commercialrealestate.com.au enables users to quickly explore more than 50,000 listings including office, retail, industrial, warehouse, hotel and agricultural properties, as well as land.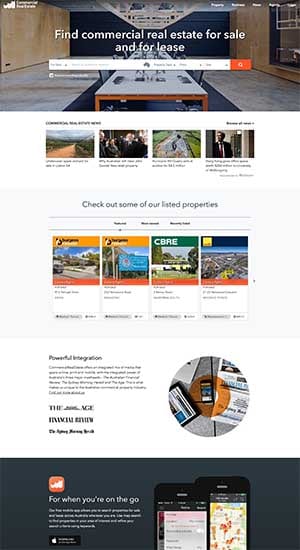 add_circle_outlineList on other Portals
clear
List on other Portals
Over-and-above realcommercial.com.au, your property will be listed on forsalebyowner.com.au, as well as a variety of other portals.
Overview of Websites
Some of the other portals to which we publish include juwai.com (Chinese Portal) and propertyinvestor.com.au These additional portals are a great resource for both landlords and tenants.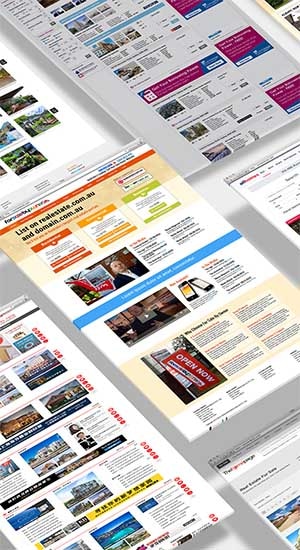 add_circle_outline'For Lease' Board
clear
'For Lease' Board
All accounts come with a professional 'For Lease' Board. Our boards are light but tough, weatherproof, and easy to install. A 'For Lease' board is an ever-present salesperson for your property.
Contact Details
By default, your board will come with our 1300 number on it. If you would prefer to have your own number listed, we can provide you with a sticker with your phone number, which you can then place over the existing 1300 number.
Delivery
Your 'For Lease' sign will generally be sent out as soon as you have confirmed your delivery address. In most cases, your sign will arrive within a few days.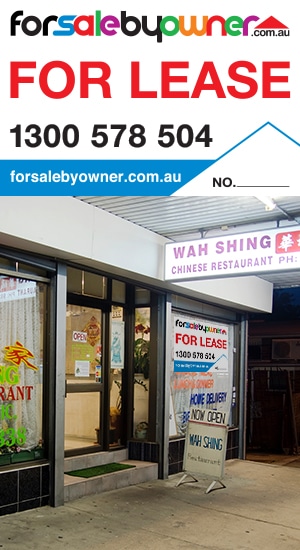 add_circle_outlinePrintable Brochures
clear
Printable Brochures
Create a great impression with our professional printable brochures. These high resolution brochures are print-ready and can be sent straight to a professional printer or can be printed from your home computer. They are great for giving out to people attending your home open, or for emailing to prospective buyers.
Easy To Use
We supply you with state-of-the-art brochure software which can be used to create your own brochure in minutes. Easily save and edit your brochures at any time.
Highest Quality
Our brochure creation tool uses Adobe® InDesign® CC Server software. This is exactly the same server software as used by many printing companies, and produces the highest possible quality print-ready documents.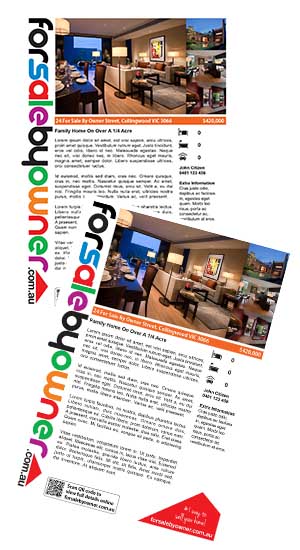 add_circle_outlineManage Your Listing 24/7
clear
Manage Your Listing 24/7
Our cutting-edge software allows you to easily and quickly both create and manage your property. You have complete control over the details of your listing as it appears on portals like realestate.com.au and domain.com.au
If you'd like to edit your listing, simply login any time and make any change you need to (edit the description price, photos etc.). Editing is fully automated and there is no charge for making changes to your listing. You do not need to wait for us to action edit requests; you are able to do this yourself at any time.
User Experience
We periodically run customer satisfaction surveys to assess how we are going and how we can improve our services. Along with our automatic enquiry handling system, our listing software is one of the main things past and current customers love about us.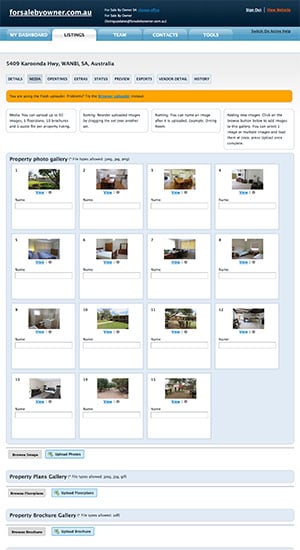 add_circle_outlineSMS
Alerts

& Enquiry Forwarding

clear

SMS Alerts & Enquiry Forwarding

Real-time Enquiry Processing! We've invested considerable resources in making the enquiry process as fast and efficient as possible. There's no need to wait for our staff to process incoming enquiries; our scripts automatically process all online enquiries.

SMS Alerts

When a buyer makes an online enquiry on your property on sites like realestate.com.au, domain.com.au, homelsales.com.au etc. you'll receive an automated SMS message. There's no cost to you for this functionality.

Automated Email Forwarding

The minute that someone makes an online enquiry, you'll receive their enquiry straight to your inbox, in real-time, and without intervention being necessary by us. The system is robust, automated and efficient. Our enquiry handling system is just another reason why we are industry leaders in the For Sale By Owner space.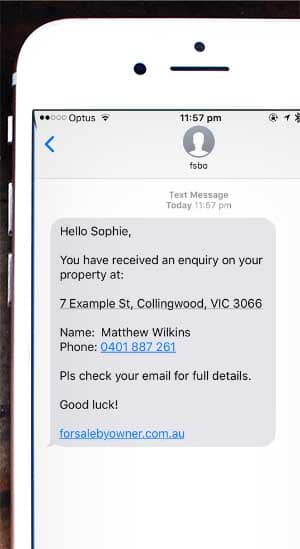 add_circle_outlinePanel of Experts
clear
Panel of Experts
Renting out your property yourself doesn't mean you are alone. We have a team of people dedicated to making this process easy for you and more importantly, rewarding. We want you to do well and find a tenant for your property. We are available 24/7 to help with any questions you have. Simply contact us and ask.
Any and all Questions!
Like to get some feedback about the wording of your ad? We can help with any and all questions. Simply give us a call or email us. We're here to help you!
About our Team
The For Sale By Owner team includes current and past estate agents, IT Professionals, graphic designers, and marketing professionals. Whether you need help with something relating to the marketing of your property, or need technical help with anything, we've got right people to assist!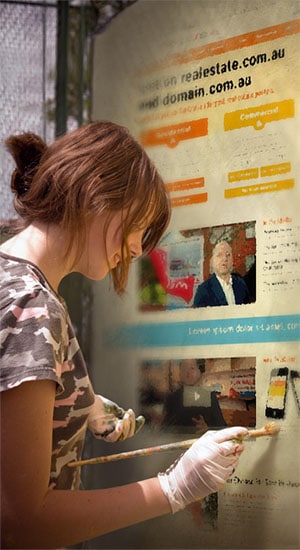 add_circle_outlineExtended Customer Support
clear
Extended Customer Support
As part of our commitment to provide excellent service, we offer extended support well outside office hours. For Sale By Owner does not use any external call-centres; when phoning, emailing or chatting online with us, you will always be dealing directly with an actual staff member. Currently, we're available about 20 hours per day.
Phone, Email & Live Chat
We are easily contactable by phone, email and live chat, whichever method best suits your needs. Support includes not only technical issues you may need help with, but also any real estate advice you may need such as dealing with a specific offer, establishing and setting your price, conducting 'Open for Inspections" etc.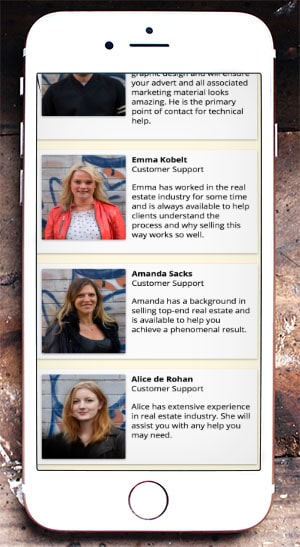 forward
Click any row for full details.
Both our packages are 'Listed Until Leased', with no monthly or ongoing fees payable.
Rentals Standard
Includes everything except commercialrealestate.com.au Listed Until Leased.
Buy Now
Rentals Standard
Please use the address as it should appear on your invoice.
This may or may not be the same as the property to be advertised.
Rentals Extended
Includes everything. Listed Until Leased.
Buy Now
Rentals Extended
Please use the address as it should appear on your invoice.
This may or may not be the same as the property to be advertised.