For Sale By Owner Review
Ricardo and Natasha Revolon - Home Hill, QLD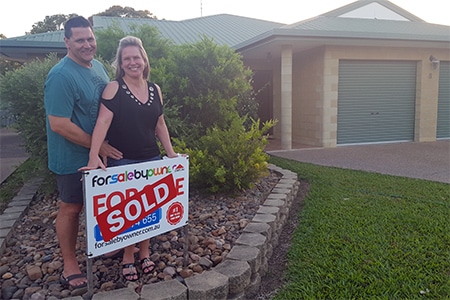 WE DID IT……. we sold our own house with the great help of "For Sale By Owner". This is not a common practise in North Queensland but that didn't stop us. As I enjoy the challenge of selling I decided to give it a go. The website was so easy to use and navigate around and as soon as you change something within minutes it is changed on all sites.
The sign came quickly and up it went. I decided to put it on local Facebook buy swap and sell site. My fiance laughed at me and he said if I sold it from sharing the link from "For Sale By Owner" to Facebook he would take me away for the weekend somewhere special….. so what happened the people who bought the house saw it on FB… woo hoo… weekend away for me.
The best part was that we saved so much money and also gained some new friends, we really enjoyed the experience. Give it a go, you may just surprise yourself. Now onto selling my unit.
Go Back