Sell My Park Home | Mobile Home
How to Sell Your Home Privately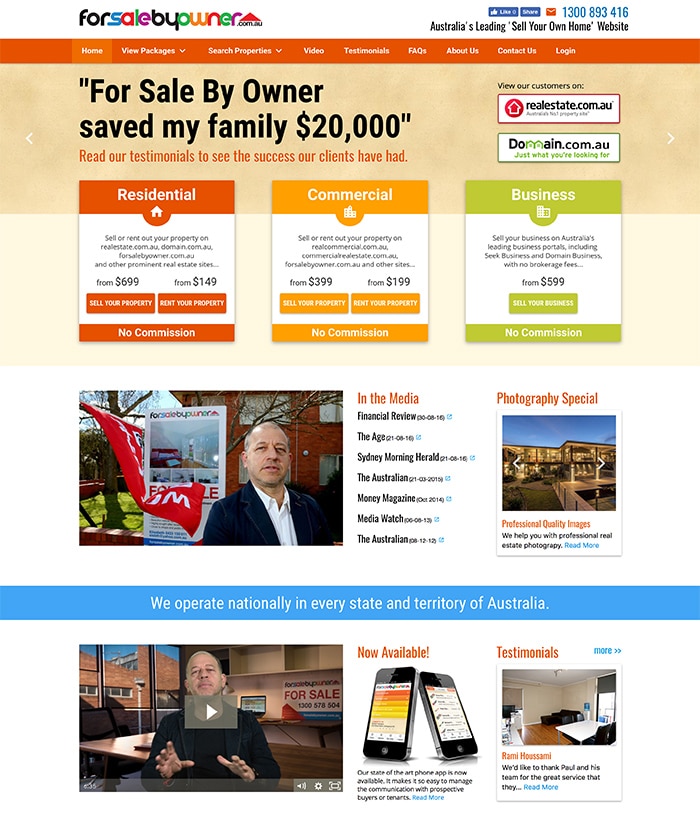 Sell My Park Home
Are you thinking of selling your park/mobile home yourself without using a real estate agent? If so, For Sale By Owner can provide you with the major real estate websites that are absolutely necessary to gain the best exposure for the advertisement of your park home, we can save you thousands of dollars in the process.
We equip you with marketing tools to advertise on domain.com.au and realestate.com.au, marketing and property reports/appraisals and most important, our expert advice from our team throughout the campaign. The sell my house method, without using a real estate agent, is a cost-effective way of selling real estate privately.
View Package Details
How Does FSBO Help Me During The Selling Process?

The first major step is getting your park home advert onto the 2 biggest sites in Australia for selling real estate, realestate.com.au and domain.com.au. Also included are 6 other real sites, a stand out 'For Sale' board, 24/7 access to manage your own account and your advert, 7-day support from our team for any technical or real estate assistance.

What Sort Of Things Should I Know When It Comes To Selling My Own Park Home?

Buyers that are looking for a park home are generally aware that there are terms related to the park that they will be obligated to agree to. It is advantageous for you to discuss these terms with the Park Operator and gain these terms in writing so that you can be prepared to answer any questions from buyers. You are dealing directly with and will handle your own negotiations with them so preparation is key.

Who Handles The Contracts And Legal Transactions?

As with any real estate transaction of residential property, it is highly recommended to gain the professional service of a conveyancer/solicitor to draw up the contract and facilitate the final settlement of the sale of your park home. We can also recommend one of our trusted partners on our database for this legal service.

Are There Any Commissions Payable Once Sold?

Not at all! When choosing FSBO, we only charge a one-off fee which is solely for marketing purposes, nothing more to pay in ongoing or monthly fees, commissions once you have sold your park home.

Are Buyers Comfortable In Dealing Directly With Owners?

Yes indeed! The feedback and testimonials from literally both sides is that buyers feel as though they are getting true and honest answers about the property. You as the owner know more about the park's amenities and the home than any agent possibly can. Please view our testimonials page from happy customers who were once buyers that discovered this way of selling.
Tags: