Sell My Unit | Sell My Unit Myself
How To Sell Without A Real Estate Agent...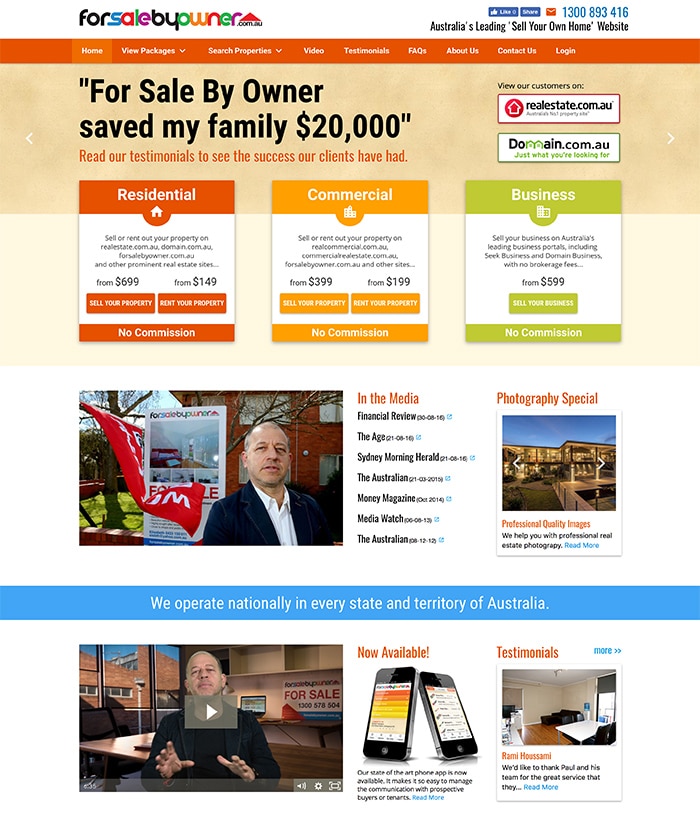 Sell My Unit
Sell your unit without the usual agent fees and commissions using the For Sale By Owner platform which enables you to utilize the same websites and advertising material that is normally only granted to agents. We help you market your property on realestate.com.au, domain.com.au and a number of other real estate sites.
Thousands of people are having huge success and getting better prices for their properties by taking full control of the sale process. You now have the means to sell your unit or sell my house easily and with all the help you need.
View Package Details
What kind of help can I expect from For Sale By Owner to sell my unit?

The first and most important tool we provide is the ability to multi-load your advert onto numerous real estate sites. The 2 biggest being realestate.com.au and domain.com.au, but there are 6 other sites we promote your advertisement on. We provide you with all manner of signage such as, for sale signs, from simple signage to large 'billboard' photo and text boards. We have an expert team that can help you with the whole process.

How do I settle on an advertising price for my unit?

Knowing the market value of your property is a key factor before considering the preparation of your marketing strategy. Doing some research on sale prices in your area is essential. You can do this by attending some local open homes and auctions. For Sale By Owner provides you with a property report which gives you recent sales results of units in the area which will be a big help with the pricing of your property. Also to consider are rental returns or things such as whether or not to do some minor renovations, being careful not to overcapitalize. Having a knowledge of other properties in the area is a must when selling yours.

Am I able to create my own ad to sell my unit?

The one thing our customers love is the ability to create their own advert. In saying that, some people may not feel entirely comfortable using computers so we are only too happy to create your ad if need be, as well as with making changes to your ad along the way… our friendly staff are there to assist you with this 7 days a week.

How will buyers contact me?

We have an automated system where you are provided the buyer's contact details in live time. Upon calling the buyer is sent a text with your name and number and this will be recorded to your For Sale By Owner account, this is all done without intervention necessary by our staff – this ensures that you are gaining fast and efficient automatic processing of every enquiry made on your property.

With so many properties on the market do I have any options to bump my ad up the page if I need to?

Yes. At any stage of your campaign if you feel your advert is getting lost in the search, simply contact our staff to source a quote for your suburb, you can upgrade to a Feature, Highlight or Premiere ad at any stage. The best thing is that when these expire after a month or so you still have your regular advert… we really do keep your property listed on these sites until you sell, whatever time that might take.
Tags: