Sell My Townhouse
How To Sell Privately Without Using An Agent...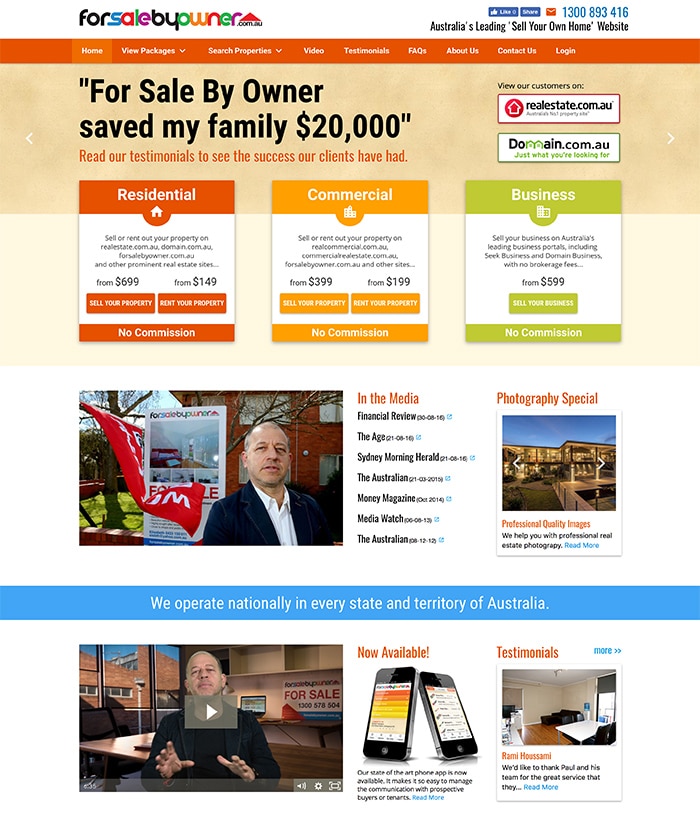 Sell My Townhouse
Thinking of selling your townhouse? At For Sale By Owner, we can save you thousands of dollars in commissions and unnecessary agent fees by helping you market your own property on all of the major real estate portals. Using the 'Sell My House' system is perfectly legal in Australia.
We provide you with the technical marketing tools to advertise privately on realestate.com.au and domain.com.au, along with a number of other portals, marketing, and property reports/appraisals to help you price your property. Our qualified staff are also here to help you with any real estate matters and technical support related to selling your house.
View Package Details
What Kind Of Demand Is There In The Market?

In most states of Australia, the townhouse market is still going strong despite past predictions that might be an oversupply of townhouses, one reason being that many people are opting for smaller properties to downsize to, or to invest in, as the rental demand is becoming higher. Selling your own as an investment or owner-occupier gives you the two different markets to target in your advert, therefore, attracting more buyers.

Who Creates My Listing And Can I Edit Or Manage It Myself?

One thing our customers love is the ability to create their own advert. In saying that, some people may not feel entirely comfortable using computers so we are only too happy to create your ad if need be, as well as with making changes to your ad along the way… our friendly staff are there to assist you with this 7 days a week.

If There Are A Lot Townhouses Advertised, Can I Prioritize My Advert To Get The Best Exposure?

Yes. At any stage of your campaign if you feel that your advert is getting lost in the search, simply contact our staff to source a quote for your suburb, you can upgrade to a Feature, Highlight or Premiere ad at any stage. The best thing is that when these expire after a month or so you still have your regular advert… we really do keep your property listed on these sites until you sell, whatever time that might take.

How Do Buyers Contact Me, Is It Direct Or Is There A Middle-Man?

We have an automated system where you are provided with the buyer's contact details in live time. Firstly, you are emailed the buyer's contact details, Secondly, you will receive a text message with their name and number and as a third measure, the buyer will also receive a text with your name and number. All done without intervention necessary by our staff – this ensures that you are gaining fast and efficient automatic processing of every enquiry made on your property.

What Sort Of Issues Should I Make Buyers Aware Of When Purchasing My Property?

When owning or investing in a townhouse, consider the 'strata scheme' attached with communal living. Being aware of, for example, the 'strata inspection report'. This helps you and the buyer to fully understand things such as body corporate compliance issues, use of common land and the need to attend annual meetings with all of the members to discuss issues that can arise with townhouse living. Informing buyers of this is most important and makes the sale process clear and transparent for both parties.
Tags: