Sell Private Real Estate
Using 'For Sale By Owner' to Sell Your Property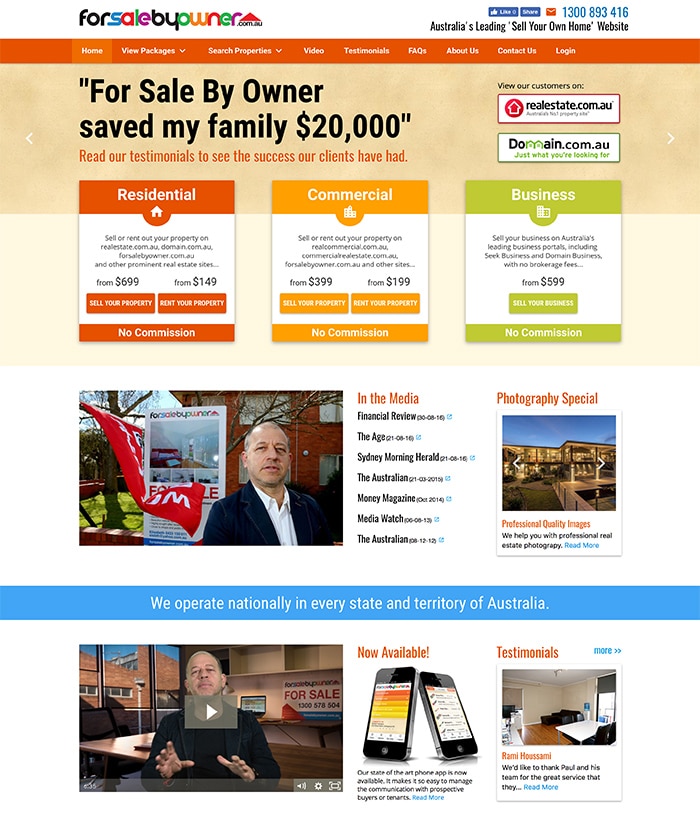 Selling real estate privately is perfectly legal and easy to do. In today's age, an internet presence on all the major Australian real estate portals is the single-most-important consideration of any sale campaign.
For Sale By Owner (forsalebyowner.com.au) allows you to do just that. We list your property privately on all of the main real estate websites. In addition to this, we also supply 'For Sale' boards, printable brochures, property reports, property appraisals, real estate photography services, and more.
Please continue if selling your own real estate privately may be of interest to you.
What is meant by 'Private Real Estate'?

In Australia, the term private real estate is taken to mean a vendor or landlord who is selling or renting out their property without the use of a real estate agent. For the owner, this can mean significant savings in both advertising costs and commissions (in the case of a property being privately sold).

Is it legal to sell real estate privately?

Yes. In Australia, there is no law that stipulates that you must use a licensed real estate agent. The number of people selling their own properties in Australia has grown over the last few years and continues to grow at a solid rate. In many cases, property owners are better positioned to answer questions from prospective buyers about their property, and buyers generally like dealing with the owners directly, without the intervention of a third-party.

What success rate do people have selling without an agent?

There is no specific and verified data on this, but it is believed that people selling privately do just as well if not better than those using agents. By not having to pay any commission there is a significant saving be made on the closing costs of selling real estate. As such, the vendor may choose to adjust the price to allow for this, in which case the property can be marketed at a more competitive price, benefitting both the owner and buyer.

Who completes and oversees the contract in privately sold real estate?

This is usually done by a conveyancer or solicitor or settlement agent, depending on where in Australia the property is located. Even when using an agent to sell real estate, a vendor would usually still engage a conveyancer or other professional to assist with the paperwork relating to settlement. In these cases, the conveyancer can also assist with the preparation and execution of the contract.

How can I sell my real estate privately?

For Sale By Owner can assist with all the marketing of your property. Your property will be published on all the major websites, including realestate.com.au and domain.com.au For Sale By Owner can also provide other products to assists in the sale of your home and land, such as For Sale boards, printable property brochures, and property reports.
Tags: