Sell My Property Privately
Selling Real Estate Without an Agent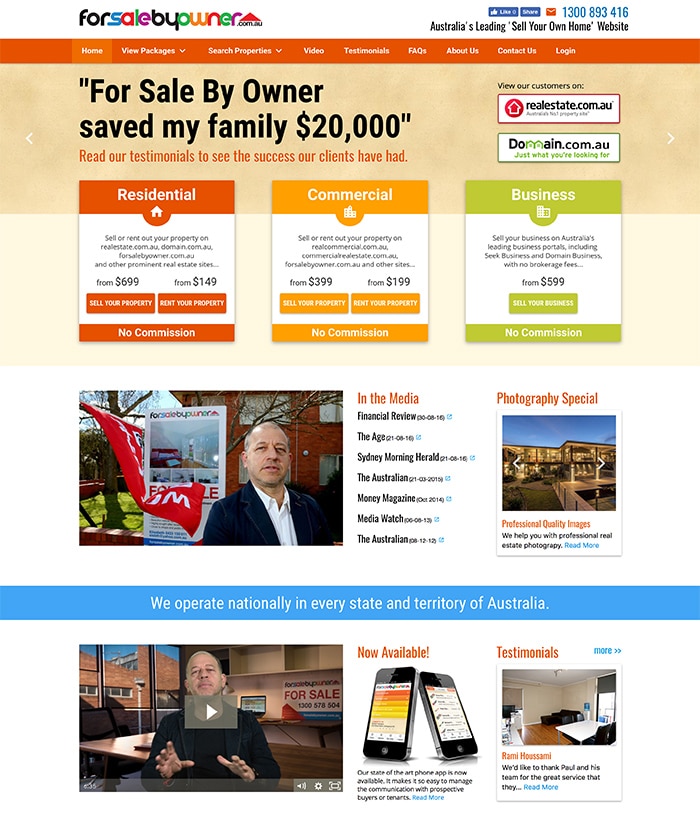 Sell My Property Privately
If you are looking to sell your property privately, www.forsalebyowner.com.au can get your listed on all the major real estate websites and can provide you with the tools you need to effectively and cheaply advertise your property. Selling real estate privately is becoming more and more common in Australia as the role of the traditional real estate agent is changing. For Sale By Owner offers you everything that a traditional agent could.
View Package Details
What website will my property be listed on?

The list of websites to which we publish changes from time-to-time, but the following real estate portals are generally included in our sale packages: realestate.com.au, domain.com.au, forsalebyowner.com.au, homesales.com.au, allhomes.com.au, realty.com.au, juwai.com, propertyinvestor.com.au Of these sites, real estate com au and domain com au are the most significant and generate the greatest number of online enquiries.

Is it legal to sell my property privately?

Yes. In Australia, there is absolutely no legal requirement to use an agent to sell real estate. In fact, most legislation which exists is related to the relationship between agent and vendor and not the process itself. It's legal and easy to sell your property privately.

How much does it cost to sell my property privately?

The cost to sell privately is $699 to $969. There are no additional monthly fees, hidden fees or fees when you sell. For Sale By Owner does not charge any commission whatsoever, allowing you to either save considerable money in selling yourself or allowing you to price your property more competitively with respect to others who will need to pay real estate commissions when they sell.

Who creates the advertisement for my property?

You will need to do this yourself. We do have and provide a professional copy if you would like, but in most cases, our customers simply write their own content, as they know their property better than anyone.

How do buyers get in touch with me?

Online enquiries will come directly to you without the need for these to be manually processed by us. Our enquiry system is sophisticated and fast. If someone makes an enquiry at any time of the day, you'll have their details within a few minutes. The buyer, in turn, will also receive an email with your details.