Sell My Property Myself
Selling Real Estate Privately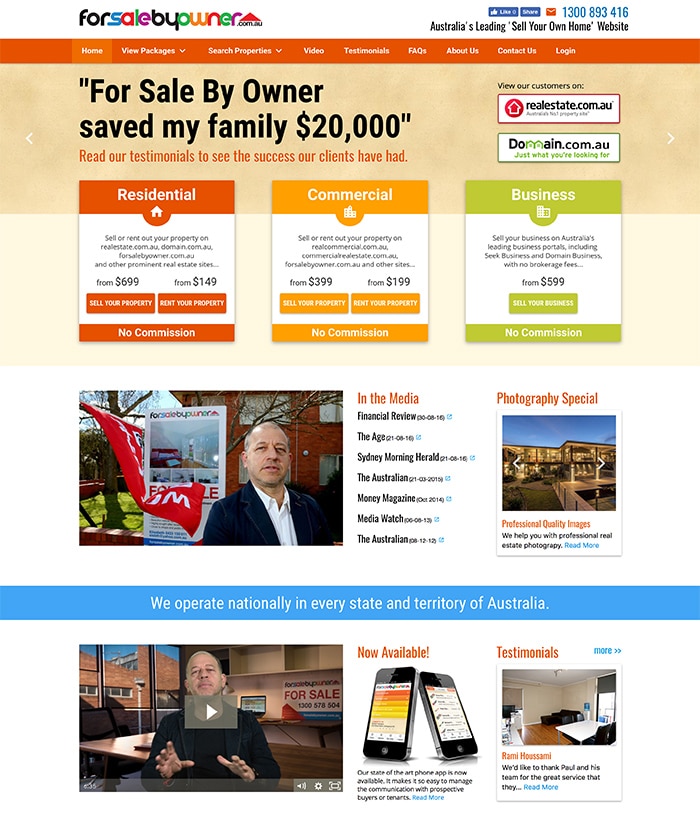 If you're wondering "How can I sell my property myself?", For Sale By Owner can help you with this. Private house sales are becoming more and more common in Australia as vendors now have the tools to be able to effectively market their properties in much the same way as traditional real estate agents can.
When selling your property yourself, you will now also be able to get listed on Australia's most popular and important real estate websites. FSBO will help you advertise privately on realestate.com.au and domain.com.au
View Package Details
How much commission is payable when selling property privately?

When selling your property privately through For Sale By Owner, you will not have to pay any sales commission at all. This is often the single most significant cost when selling your house or land. Depending on where in Australia you are, by selling through an agent, you could be paying around $15,000 on an average $600,000 home. That commission is not applicable at all when selling your property yourself, meaning very significant savings for those selling themselves.

What other expenses are incurred when selling privately?

Whilst there is no commission payable whatsoever when selling through For Sale By Owner, there is a package fee to advertise your property and to provide you with such things as a For Sale Board etc. These fees can be seen in the packages to the right or below.

Even when using a real estate agent, you will still need to engage a solicitor to take care of the paperwork for you and to organise and prepare everything for settlement. When selling privately, this is the other expense that you will incur.

What are the requirements to sell privately in Australia?

There are no specific legal requirements that differentiate a private sale of property compared with someone selling their property through an agent. There is also no legal requirement that you use a real estate agent in Australia.

What role does For Sale By Owner play in selling my property myself?

For Sale By Owner assist primarily with the marketing of your property across a range of real estate websites in Australia. Many of these are agent-only sites, meaning that you are not able to advertise on them directly yourself. FSBO also assists with providing things like signboards, open signs, flags, printable brochures and other things that can assist you with the sale of your property.

What level of support can I expect when selling with FSBO?

We provide a high level of support to our customers, and we do so well outside of standard business hours, 7 days a week, and 365 days a year. When you need help uploading photos, would like to get feedback on the text you've written for your advertisement, or would assistance on an offer you may have received, we can assist you with almost everything.
Tags: