Advertise on Juwai - Juwai.com & Juwai.asia
How to Reach Chinese Buyers & Advertise on Chinese Real Estate Websites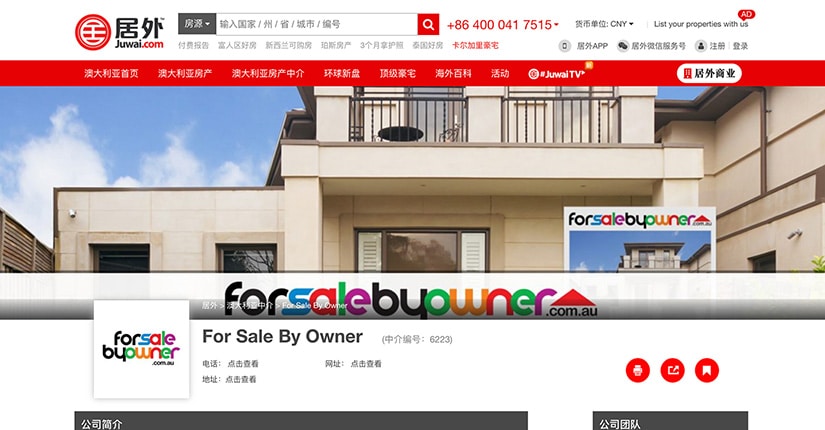 If you're looking to reach Chinese buyers or other Asian investors for your Australian property, For Sale By Owner can assist. We can advertise your property to a vast Asian market via Juwai, which now consists of Juwai.com and Juwai.asia
Juwai is one of Asia's most prominent real estate portals, and lists properties in more than 111 countries, with close to 3 million active listings at this time. Whereas juwai.com is mainly used by Chinese buyers, juwai.asia appeals to many buyers in other Asian countries other than mainland China.
By listing your property with For Sale By Owner, you will also be listed on both Juwai websites at no additional cost. Please view our sales packages pages for current pricing and inclusions.
View our current listings here:
Why use For Sale By Owner to list on Juwai?
1. Reach Chinese Buyers
Australian properties are highly sought-after by many Asian buyers and investors. In mainland China, many international real estate websites are blocked. This is not the case for Juwai and this is one of the reasons for its popularity and dominance in terms of Chinese investors and buyers looking to buy properties in Australia.
There are two types of Chinese buyers; 1. Those that live in mainland China, and 2. Those that live in Australia. The main reason to advertise on Juwai would be to reach the first group of buyers, and this is an important sector of the market to which you really should advertise. Chinese buyers in Australia may also access Juwai but largely use Australian real estate websites instead.
2. List on Chinese Real Estate Websites
There are many smaller Chinese real estate websites that use property listings advertised on Juwai on their own websites. Whilst these are much smaller and not as well-known as Juwai, you can still get additional exposure from these sites at no extra cost to you. By listing on one of the largest sites, your ad will invariably appear on other Asian sites as well, with the potential for generating even more enquiries on your property.
3. Integrate With Other Real Estate Sites
When selling your property with For Sale By Owner, you will have access to part of our website where you can create and manage your listing. Here you can add all the details required such as a title, description, price, photos and all other fields relating to your advertisement.
If you are advertising with us on sites like realestate.com.au and domain.com.au, there is nothing further you need to do to advertise on Juwai through us. We send through direct feeds to all portals simultaneously, and your property advertisement (as well as all subsequent updates) is sent though automatically in real-time.
4. Have Your Juwai Listing and Enquiries Translated into Chinese
Your property listing on Juwai will be translated into Chinese on request at no additional cost to you. This will not only increase potential buyers viewing either of the Juwai websites but will also make your listing more prominent when indexed by Chinese search engines. The translation of your listing can only be done once though, as this will be translated by an actual translated to ensure the highest level of grammatical correctness. Having said that, you can of course always still make updates to your Juwai listing.
By default, enquiries are not automatically translated from Chinese into English, but this is something we can assist with at no cost should you need any help.
5. Receive Direct Enquiries From Chinese Buyers
As with all the portals to which we publish, all enquiries will come directly to you, and the buyer will in turn also receive your contact details. This way both you and the buyer can start communicating immediately.
Clients often ask whether or not they should respond in English to enquiries from Chinese Buyers. The answer in most cases is yes. From experience, this really does not present itself as a major issue as text can automatically be translated using free services like Google Translate. Whilst it's recommended that you do have your original listing translated for buyers to read, subsequent communication between buyers and sellers is often not-at-all complicated.
6. Save Money
When advertising directly with Juwai, a listing will cost you AUD $500 – $1,500 per 3 months. By advertising through our website, the cost is essentially $0 for 12 months, as a listing on Juwai is part of all our packages as a standard inclusion.
When you list on Juwai with For Sale By Owner, you will also have the additional benefits of being able to advertise on realestate.com.au and advertise on domain.com.au at the same time.
Juwai: How To List And Advertise Your Property On Juwai
Tags: Advertise on Juwai, List on Juwai, Chinese Buyers, Chinese Real Estate Websites