Realestate.com.au Upgrades
How to increase the prominence of your listing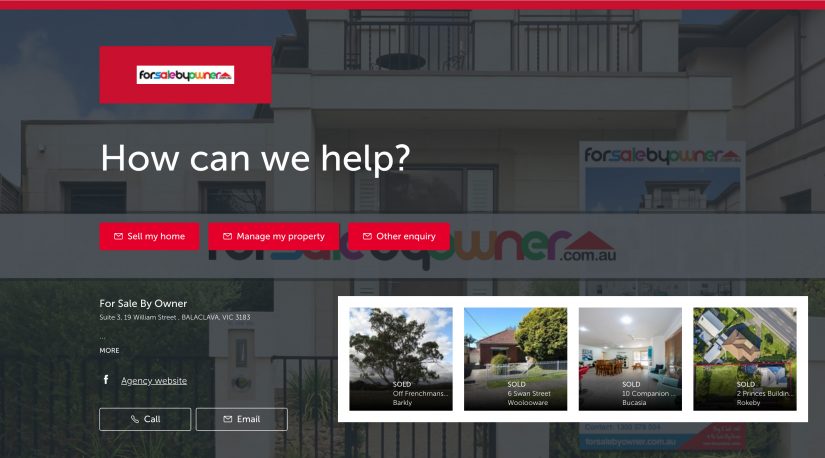 If you are looking to increase your prominence and position when advertising privately on realestate.com.au there are a few paid-for options available. You may have noticed as new properties are listed in your suburb these appear above existing, older listings. An upgraded listing, while active, will appear above all 'standard' listings even if the listing is older and the standard listing is brand new.
There are three different tiers of upgrades on realestate.com.au. See the image before for more information about the 'Feature', 'Highlight', and the 'Premiere' upgrades.
The cost of realestate.com.au's upgrades is suburb dependant, and most upgrades can be purchase for 30 and 45-day time blocks. Get in touch with us at For Sale by Owner to find out the pricing for upgrades within your suburb.
Feature Upgrade:      View Information Brochure (PDF)
Highlight Upgrade:   View Information Brochure (PDF)
Premiere Upgrade:   View Information Brochure (PDF)
1. Why would I want to upgrade my listing on realestate.com.au?
Listings on realestate.com.au drop down in the search results over time, with newer listing appearing on top of previously listed ones. An upgrade pushes your listing back up higher in the search results, which means that it may attract of a greater number of views from potential buyers looking for properties in your area.
You will have also noticed that by default realestate.com.au shows properties in surrounding suburbs when there are no more properties in the actual suburb being searched. Upgraded properties do not just appear higher in normal searches; they also appear higher in the list of surrounding suburbs. This can be particularly useful for country areas where there may be numerous townships with a small number of listings in each.
2. How much do the various upgrades cost?
The price of a realestate.com.au upgrade will depend on the suburb in which your property is listed. An upgrade for an inner-city suburb of Sydney in which there are a great number of listings will cost more than a smaller rural town where there are not many properties listed.
The cost of upgrades can also change over time depending on what is happening in the market. For Sale By Owner can provide you with up-to-date quotes for the various options. Please get in touch with us if you're interested in upgrading your listing.
As a very general rule you can expect upgrade prices for properties for sale to start at around $695, going up to around $6,000 for a 30-day upgrade in a popular suburb. Rental upgrades start at around $120 for a 30-day upgrade.
3. Do you recommend that I purchase a realestate.com.au upgrade?
Not necessarily; this all depends on what the market is like in your area. If for instance, there are just 15 properties in your suburb, most people who are wanting to buy in your area will view all available properties. The cost of upgrading your listing is probably not worth the expense and simply having larger images on your listing will likely not make any difference to the number of people who decide to get in contact with you.
If you're unsure, we will be happy to investigate and make a recommendation to you as to whether an upgrade might be worth the expense.
4. Will my listing stay at the top of the page for the duration of the upgrade?
No; in most cases it will not stay at the top. Just as newer properties come to be higher in search results than older properties, so new upgrades come to be higher in search results than older ones. The exception to this is Premiere upgrades, where after 14 days the listing reverts back to the top of the list. Premiere upgrades are different to feature and highlight listings in this regard.
With the various upgrade options that are possible, it's important to understand that whilst these may result in greater exposure, upgrading your listing does not always mean that your property is going to go to the top of search results.
5. Can I upgrade or downgrade during the campaign?
Once your listing has been upgraded, there can sometimes be some scope for moving it to a higher level of upgrade. Downgrading however, is not possible nor does realestate.com.au offer any refunds if someone changes their mind after the listing has already been upgraded.
In the case of an upgrade from one level to another, there is some scope for credit to be applied to the cost of the new upgrade. Please get in touch with us should this be of interest to you and we'll be able to provide a quote for this.
6. Will I get a campaign report at the end?
Whilst this is not the default, we can setup reports to be sent to you directly from realestate.com.au This will allow you to easily see (in the form of graphs) what impact the upgrade has made on the number of people that have viewed your listing, as well the number of people who have proceeded to make an enquiry and get in touch with you.
7. Can I get a better rate if I've previously purchased an upgrade?
Unfortunately not. The fees for upgrades are imposed by realestate.com.au themselves, and they currently do not offer discounted rates for subsequent upgrades if a vendor has previously upgraded their listing.
It's also not possible to claim any partial refund should your property sell or be leased out while your upgrade is still active.
Realestate.com.au Upgrades: Feature Upgrade
Realestate.com.au Upgrades: Highlight Upgrade
Realestate.com.au Upgrades: Premiere Upgrade