For Sale By Owner Review
Sandra Fitch - Lake Munmorah, NSW 2259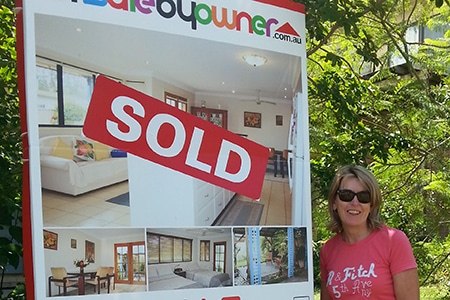 Thank you so much for being so professional in everything you do and supply.
Wow, I had a tonne of fun selling the villa myself and achieved a great result. The top price of what the Real Estate Agent advised we would get and he really did not believe it was possible to get the result. Loved the whole experience. From getting the house dressed up, then me and putting the great loan flag out, talking with all that came through and enquired either by phone or on the net. I put 3 x 1/4 page adverts in local paper and listed in domain, realestate.com.au and had the photoboard with the loan flag out every open day.
Had multiple people wanting it and the only reason it took 3 weeks to sell was that so many were in cooling off periods to sell their own houses. Cannot convey how professional it all looked from the adverts, photoboard, the notebooks, badges and the great flyer that was so easy to do and looked great. People loved dealing with the owners.
So happy and thankful and happy to talk to anyone who wants to do the same. I have just sent the loan flag back as well as the badges and leftover notepaper. Thank you once again.