Sell Without An Agent
Sell your property without a traditional real estate agent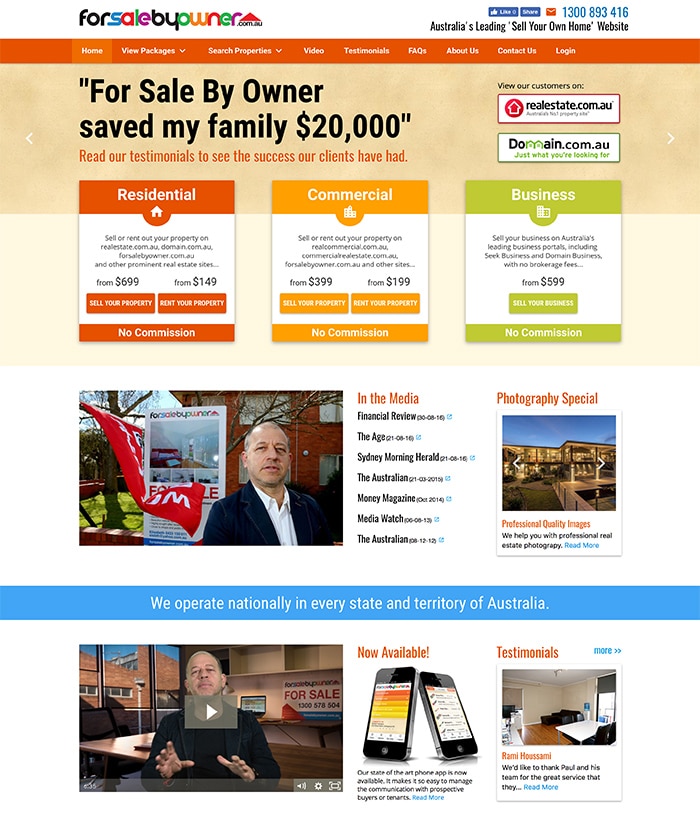 It is certainly possible to sell your house without an agent. You are no doubt aware of the huge expenses that are incurred by using an agent, from high commissions to inflated marketing expenses, so why not experience what thousands of homeowners are doing. They are getting even better results than ever before while saving themselves up to tens of thousands. You can successfully market and sell your property without using an agent by engaging For Sale By Owner. FSBO can get you better results and are here to assist you when you are not using an agent.
View Package Details
Can I get an ad on the real estate sites without using an agent?

No, sites like realestate.com.au only allow licensed agents to list on their site. We are a licensed agency however and so we can list your property on these sites. Gone are the days of having to list with a traditional agent to get on to the major real estate sites. We all know that the majority of buyers are going to realestate.com.au and domain.com.au so now you have the same advantages as agents, you can list on the same sites without having to use a traditional agent by using our system.

How do I go about working out what to price my property at without the help of an agent?

For one thing agents don't have any special powers when it comes to pricing a property. You can do this yourself without an agent by getting your own appraisal or valuation, this is the most important thing to start with so that you know the true market value of your house. You can do this without using an agent for a small but worthwhile output. We recommend attending open for inspections in your area to start gathering information and get a feel for the market. As part of our packages we send you property reports based on your area, every bit helps.

Do I receive any help to do this myself since I'm not using an agent?

We provide a 24/7 customer support line by phone or live chat any time you need to speak with our trained staff who can help you with things such as signing up, creating the ad, to editing your listing. If you need help on how to negotiate between a number of people, we are here!

Do you help me put my ad on real estate sites?

Once you have an account with us by signing up, we provide as little or as much assistance in creating your ad. A lot of people like to take control and put in their own text & photos, but if you are uncomfortable doing this yourself, then let us do your ad!

How will I be contacted by potential buyers?

We have an automated system where you are provided the buyers contact details in live time. Firstly, you are emailed the buyers contact details, Secondly, you will receive a text message with their name and number and as a third measure, the buyer will also receive a text with your name and number. All done without intervention necessary by our staff.